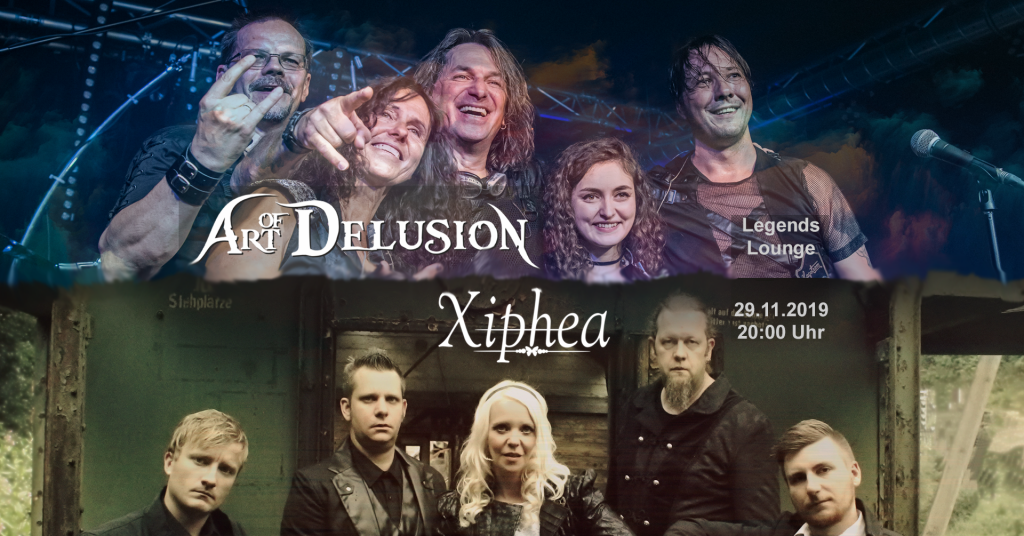 Am 29.11.2019 findet in der Legends Lounge die Female Fronted Symphonic Metal Night statt. Als besonderen Gast freuen wir uns diesmal Xiphea begrüssen zu dürfen, die den Abend mit uns zusammen rocken werden. Zwei mal Symphonic Metal, zwei mal Female Fronted Power.
Über Art of Delusion:
Art of Delusion ist eine Symphonic- / Melodic Metal Band aus München. Gegründet 2015, haben sich die Musiker von Art of Delusion dem Symphonic Metal gewidmet. Musikalisch orientieren sich AoD daran, Bestandteile aus der klassischen Musik mit modernem Female Fronted Metal zu vereinen. Inspiriert von Gruppen wie Nightwish, Amaranthe, Delain, Epica, Xandria, Serenity u.v.m. arrangieren Art of Delusion ihre Songs in melodischer Weise mit symphonischen Einflüssen – aber geradlinig und druckvoll mit harten Gitarrenriffs im Metal-Stil.
Über Xiphea:
Xiphea ist eine deutsche Metalband aus dem Nürnberger Raum, die im Jahre 2011 gegründet wurde. Seit dem kreieren die Mitglieder eine epische, kraftvolle Musik im klassischen "Beauty and Beast" Stil mit Einflüssen aus dem Punkrock und Metalcore-Bereich. Das erste Album "From the uncharted Island" war zur Überraschung der Band ein großer Erfolg, da es sic h weltweit mehrfach verkaufte. Im Jahre 2014 gewann Xiphea den "Battle of the Bands Contest" der jedes Jahr vom Magazin Sonic Seducer veranstaltet wird.
Mit "Once upon a Time" haben Xiphea 2015 die Geburtsstunde des "Fairytale Metal" eingeleutet. Seitdem verarbeiten Xiphea lyrisch Themen aus der Märchenwelt und setzen diese musikalisch um.
Ihr drittes Album "Everland" verfolgen die Musiker die Thematik des Fairytale Metal weiter und begeben sich auf eine Reise durch die Sagen und Märchenwelt, den mythen und Geschichten aus aller Welt – vom mystischen fernen Osten, dem romantischen Norden aber auch aus der vertrauten Heimat.
Hier geht´s zur Facebook Veranstaltung –> HIER
Tickets gibt es hier: Ticket-Link
Adresse: Legends Lounge (http://www.legends-lounge.info/), Iltzweg 1, 82140 Olching (München)