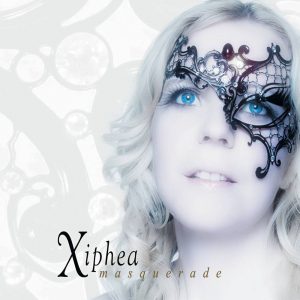 Well, it was something like disruption, you defeated
But then it turned to dust, your self-made philosophy
My mask, so pretty, oh it covered every single tear.
So long this painful road, but somehow it brought me here.
Lies showed up in all kinds of ways. Don't ask me how!
I kept a distance, tried to change the sun and turned around.
No more I sparkled but I had a million stars to count.
You're disappointed I redeemed myself with no despair.
I've conquered everything, my world, my love, I deeply care.
Here I stand, now you face my heaven! And prayers say: "hi" to all that I ever was.
I proudly know and I truly love it that I ended – for I one with- my sweet masquerade.
One night I left him, left my so called peanut tragedy.
Today I dream about Xiphea… her symphony.
I embrace the new day, I breathe it in.
My prince, who has arrived, released me from all your sin.
Tell me is it something you feel!
No more laughing! I can't hear you.
Sweetly captured. Spirit freed me.
I don't hate my mask, it saved me.
When night creates a picture that is magical
there my be silence, we choose the way it shines
Oh, we can scream about it near the fire.
I love emotion it leads me to the sound.
Come, and try the second door.
You have to use the key.
The golden one will guide you there.
Your mind will be free then.
You don't have to understand,
just follow your own legend.
Let it be your fairy tale,
the stars of your heaven.
The day can show the meaning of her treasure.
One happy violence, but you don't have to fear.
Oh, sometimes we decide not to surrender.
A sort of courage,
I love the way it sounds.
Don't you question what you strive!
Bring your fairytale to life!
Tell me is it arrogant to dream of building my beloved cathedral?
shivering of cold that you cause with little judgmenst?
I am not your sweet ghost!
So tell me is it ignorant to waste somebody's dream?
Falling shade I am happy to stay with the dark.
Come and pray for a dream that was sacred by heart!
Maybe I'm shy, trust in silence… but I love the way you hear me.
Closer to the shadows! Snow may fall there's no more freezing.
And somehow I feel fine!
The river of emotions floats fast, so you can't say good-bye.
Falling shade I am happy to stay with the dark.
Come and pray for a dream that was sacred by heart.
I created a bittersweet romance inside…
I have treasured it right from the start.
Come and pray for a dream that was sacred by heart!
I am happy to stay with the dark.
Heaven shows us pure acceptance!
Help me to forgive them, Holy Spirit,
I want to show the world
how to join Your ever gracious army,
how to fight with weapons of the Saints.
Oh. Tell me does it need a little more of loving?
Let me be another part of it.
Hard to feel protected,
when all the evil minds seem to win again!
Sometimes I don't turn the other cheek
May I have the choice if I don't want?
I try to fight, as I believe. but don't let me fight alone
All my good intentions brought me here I call your name
Here comes the tunder, the storm
our story has begun, now every whisper matters
More than a scene means a play,
so welcome to the show!
Let's see the curtain fall down.
No distraction! We are celebrating destiny.
Follow me
into this world through the fields,
over more than million seas!
No need for hesitation.
Hard to begin something new.
We decided to go on. Hello imagination!
Stop rejecting! Here we are to welcome destiny.
You want to see?
Here we are! Near the hearts!
Feel free to share the clime.
More than hoped, passion grows.
Tell me isn't it is a wonderful time!
Inhale! Capture something deep inside.
Inhale and feel to live for all that's real inside!
Here to live and be time. Moment last just be mine!
Here comes the storm, it grows, curtian falls
Here we are eyes glow
More than ever hoped.