We made it possible… On June 23 three fantastic bands come togehter for the first Fairymetal Night at the Cult Club Nuremberg. Hydra the german symphonic metal band from Regensburg will be live on stage and so will the great band Blackbriar from the Netherlands join this evening. It will be magical and full of  wonder.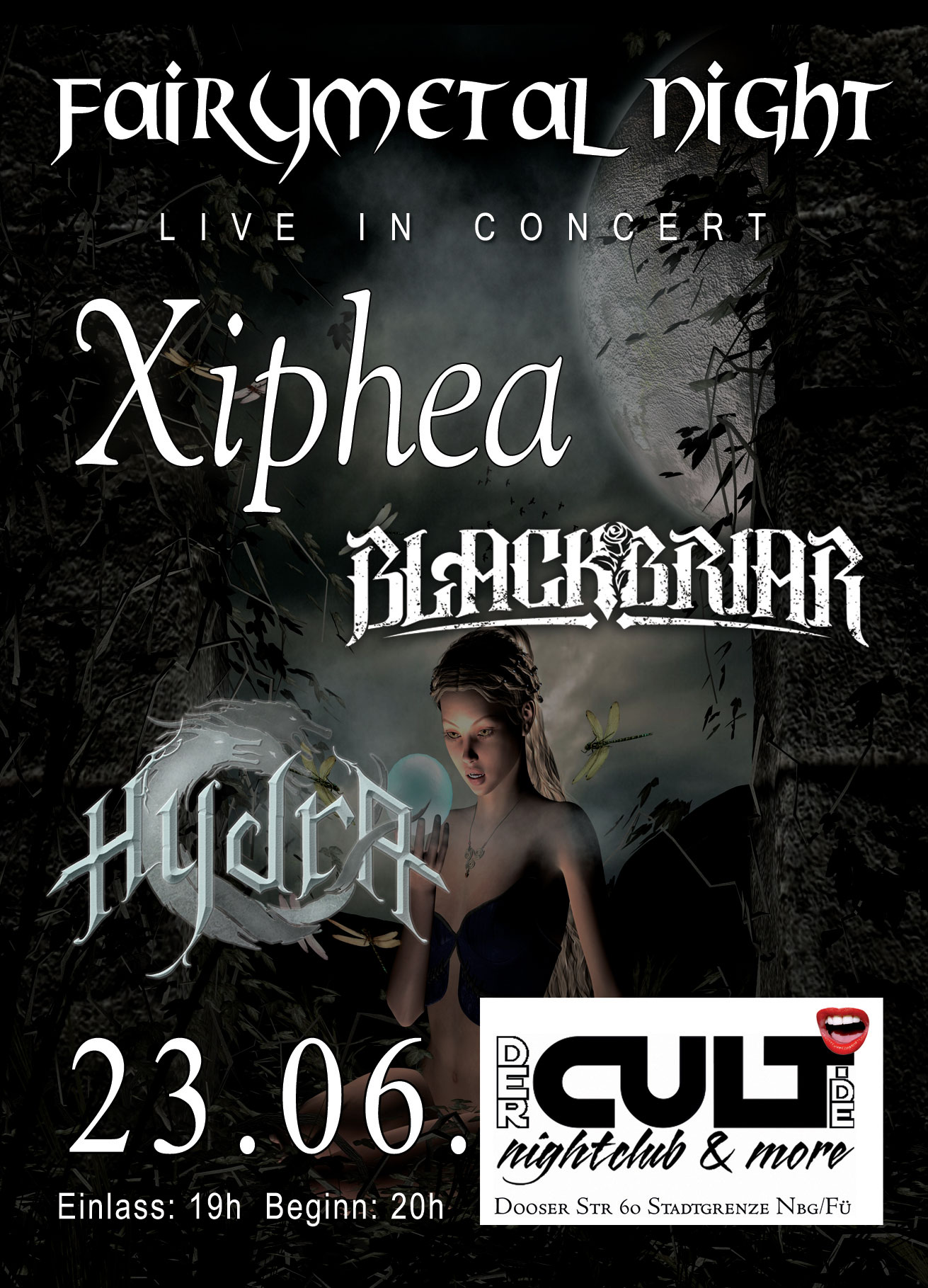 Fairymetal Night
The first Fairymetal Night with 3 fantastic Bands


Xiphea
GER - Symphonic Fairytale Metal
Blackbriar
NED - Alternativ Metal
Hydra
GER - Symphonic Metal
Fairymetal Night (Cult Club Nürnberg) 

Nicht alle Feen sind scheu und zeigen sich nur in seltenen Augenblicken uns Menschen. Es gibt auch solche, die dann und wann ihre Stimmen erklingen lassen, dabei wild die Haare schütteln, und uns zum headbangen animieren.
Überzeugen kann man sich davon zur ersten "Fairymetal Night" im "Cult" bei Nürnberg. Drei großartige Metalbands, deren Frontfrauen uns jeweils in den Bann ihrer eigenen Märchenwelt ziehen möchten, werden für einen rockig, zauberhaften Konzertabend sorgen, der dem Besucher noch lange im Gedächtnis bleiben wird.
"Xiphea"
aus Erlangen haben sich ganz den Märchen verschrieben… verbinden die uns allen bekannten Geschichten mit den harten Tönen aus dem metal Genre. Wer die Vereinbarkeit von Dornröschen mit double bass einmal selbst erleben möchte, der bekommt dazu die Gelegenheit.
"Hydra"
aus Regensburg hat mit ihrem aktuellen Werk "Solar Empire" sogar eine komplette fantastische Sage veröffentlicht. Die musikalische Erzählweise ist einzigartig und wird ein besonderes Liveerlebnis sein.
"Blackbriar"
kommen mit ihrer Fee Zora aus den Niederlanden angereist, um ihr erstes Konzert in Deutschland zu spielen. Wer die großartige aufstrebende Band schon jetzt aus der Ferne bewundert, darf sich darauf freuen, deren romantisch rockiges Repertoire endlich hautnah erleben zu können.